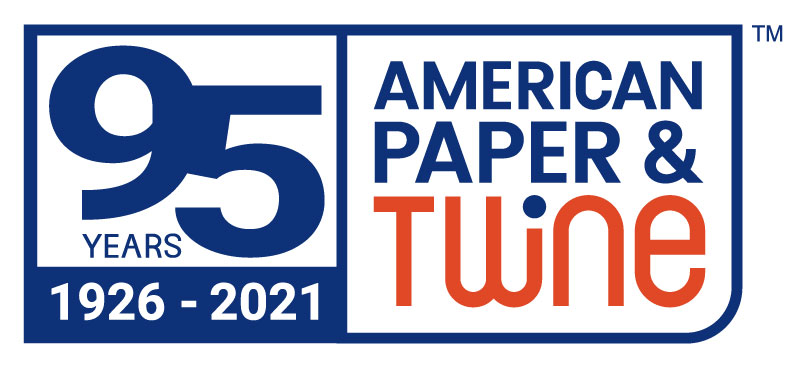 AMERICAN PAPER & TWINE CELEBRATES 95th ANNIVERSARY
Nashville's oldest family-owned wholesale supplier commemorates 95 years in business.
November 19, 2021 (Nashville, TN) – American Paper & Twine is proud to be celebrating 95 years in business today. The wholesale supplier of janitorial, packaging, disposable food service, safety, and office products was founded in 1926 and is currently a third generation run family-owned company.
Nathan Doochin, along with business partner Milton Lockenbach, started American Paper & Twine with one truck and a focus on customer service. Nathan's son, Bob, joined the company in 1962 and served as President and CEO from 1982-2020. In 2020, Bob moved into the role of Chairman and CEO while daughter, Karen Doochin Vingelen, became AP&T's President and COO.
"It would be an understatement to say that taking over as President during the year a pandemic hit was challenging," Doochin Vingelen said. "But our team really stepped up to serve the community, even amid supply shortages that are still impacting the economical footprint of our nation."
When retailers were running out of toilet paper and other essentials, the team at AP&T found ways to navigate the distribution landscape and continued providing PPE and other necessities to its loyal customers. This dedication to service is why AP&T has been in business for nearly a century.
Bob Doochin emphasized AP&T's customer-focused culture, saying, "During our 95 years, AP&T has been through the depression, recessions, monumental industry shifts and most recently, a pandemic. Through it all, we have remained committed to providing the products our customers need along with remarkable service. And we look forward to continuing to do so for another 95 years."
AP&T now has more than 350 employees and over 100 delivery trucks. Continually looking for opportunities to grow and modernize its operations, AP&T puts an emphasis on utilizing technology to improve service capabilities while maintaining the personal feel of a local company. They rebranded in 2019 with a fresh new look and logo, and then launched a new website (ShopAPT.com) in 2021.
In addition to its Nashville location, AP&T operates full-service distribution facilities in Chattanooga, Memphis, Little Rock, Knoxville, Atlanta, Muscle Shoals, and Tupelo, where they recently acquired Monts Paper & Packaging. This year, the company also expanded their service area to include Northwest Arkansas and surrounding regions, including into Missouri and Oklahoma.
Learn more about the history of AP&T and the way products and trends have evolved over time by visiting their commemorative 95th anniversary website at https://www.shopapt.com/Twine-iversary.
About American Paper & Twine
American Paper & Twine was founded in 1926 and is a leading distributor across business sectors that include janitorial, packaging, disposable food service, office products and safety products. American Paper & Twine has more than 350 employees, over 100 delivery trucks and operates eight full-service distribution centers with combined warehouse space of over 550,000 square feet. The facilities are located throughout the Southeast in Nashville, Chattanooga, Memphis, Knoxville, Little Rock, Atlanta, Muscle Shoals and Tupelo.
Media Contact
Ruth Bates
Director of Marketing
American Paper & Twine
615.350.9000 | rbates@aptcommerce.com
7400 Cockrill Bend Boulevard | Nashville, TN 37209
www.ShopAPT.com